The Exceptional Edge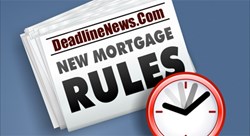 If you get a mortgage this year, be prepared for some changes.
On Friday, January 10th, the federal government's new "ability-to-repay" and "qualified mortgage" rules take effect. They're known as ATR and QM for short. The ATR rules detail how your lender must document your income, expenses and assets. The QM rules limit the kind of mortgage your lender can issue you if it wants to sell your loan on the secondary market, as is done with the vast majority of such loans.
The QM rules prohibit features such as low teaser rates that reset upward. A mortgage can't raise a borrower's debt-to-income ratio above 43 percent, and points and fees can't exceed 3 percent of the total loan. Ultimately, the benefit will be with the consumer. That said, mortgage professionals have some complaints about the regulations.
The new rules will give lenders less leeway to deal with borrowers' unique…
View original post 615 more words